A huge thank you to Mena Middle School Project Prevent and Student Council for helping make our field day such a success!!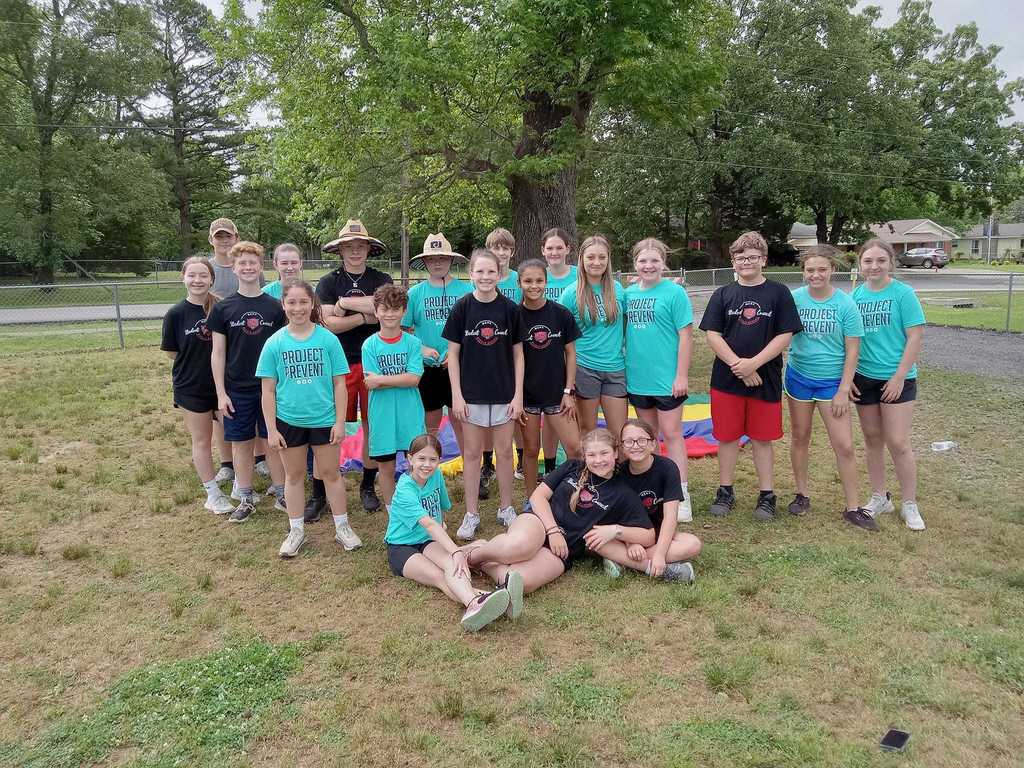 Congratulations to AIDAN BROCKWELL for winning the attendance award at Louise Durham Elementary as well as a new bike from Matt Thomas State Farm Insurance !

Teach Kids to Save Program: Louise Durham Elementary Library collaborated with Union Bank of Mena on a Program called Teach Kids to Save. Teach Kids to Save is an outreach program designed to teach and encourage good saving habits early in life. Union Bank also donated a picture book for our school library that supports financial literacy. Tiffany Williams: Library Media Specialist said, "We work to be a bridge connecting our students to the community through literacy and learning— working to grow our students for the future."

The Mena Little Ladycat Basketball Camp came to a close on Wednesday. The camp was open to 1st-7th grades.

Mrs. Copelin and Mrs. Taylor enjoyed a day in the clouds at Queen Wilhelmina State Park with their Mena Preschool students on Friday.

Performance Team Real Estate presented a check to Mena Public Schools on Tuesday for the purchase of adaptive playground equipment. Thank you for your generous donation.

Thank you to Sue Powell and Alpha Beta Sigma Phi for your contribution to Louise Durham student meal accounts.

Mena hosted the Area 14 Special Olympics on Wednesday at Bob Carver Bearcat Stadium. Mena students attended the opening ceremony and volunteered at the event that featured athletes from around the area.

Congratulations to our March Staff Member of the Month, Mrs. Debbie Hankins. We are so lucky for all the work she does and all of the students she helps on a daily basis!!

Fastcats is coming!

Take a Book, Leave a Book, Love a Book! Our Free Little Library is filled and ready to support our students for Spring Break Reading!📚

Louise Durham Elementary wrapped up Read Across America week on Friday. Students were able to exceed their reading goal and as a reward were allowed to pie Mr. Black, Mr. Rose and Mrs. Williams.

Mena Preschool had a fun week celebrating Read Across America!

Congratulations to First Grade Battle of the Books for representing Louise Durham well and bringing home Second Place. 📚📚 We are so proud of you!!!


Shanda Craig Attachments 3:12 PM (2 hours ago) to me Today we celebrated all of our students at LD, HHE, and MMS for attending school all week! Students that attended all week were put into a drawing for a Papa's Mexican Cafe Gift Card! LD: Nikki Hunter Jacob VanNatta HHE Trinity Harmon Ashton Mallard Wecker MMS Aiden Sandoval Jimmie Payne We are so proud of all of our students that attended school all week! We are especially thankful to Papa's Mexican Cafe for supporting our students' success and our community!

Rise & Shine Assembly at Louise Durham Elementary on Friday, February 24th. Several awards were given. Including one for attendance, students of the month in each class, staff member of the month as well as best dancers. Plus Mena High School theatre students performed a skit about respect and kindness.

Tune in Bearcat News on Mena Public Schools Radio this Monday for the weekly report from Louise Durham Elementary. Featuring GRAYSON HEATH from Mrs. Redfearn's 2nd grade class.

At Thursday's meeting of the Rotary Club, Dr Lee Smith and Bridgett Buckley of Mena Schools told us about a new disciplinary program implemented by the school system. They work with prosecuting attorney Debra Buschman's office to help the students achieve a positive outcome and a new direction for their lives. Mena Public Schools

Congratulations to our staff member of the month, Mrs. Chaney! Mrs. Chaney has been a wonderful new addition to our LD family as our school guidance counselor and we are so lucky to have her!