Members of the Mena High School Track Team competed in the Class 4A State Meet at Harrison on Tuesday. The girls were led by KARLEY SHARP who finished 6th in the 800m & 10th in the 1600m. The boys were led by LOGAN YANG who was 5th in the shot & JAKE BROTHERTON with a 6th place finish in the discus. See complete results at the link below
https://ar.milesplit.com/.../467162-4a-state.../results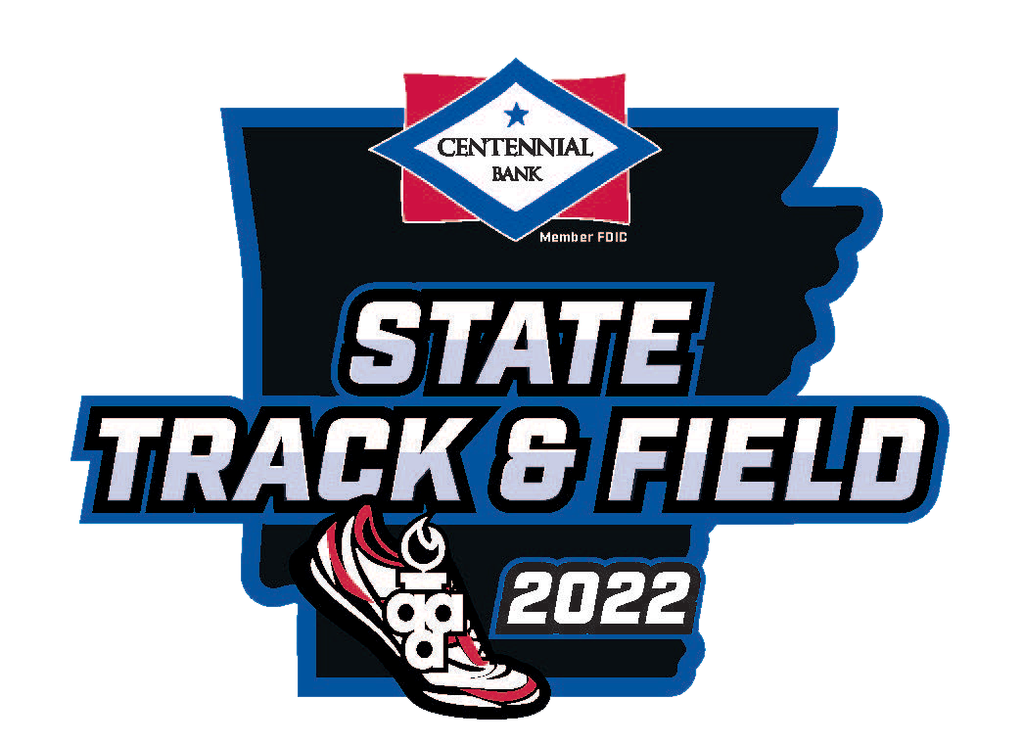 Ladycat Night #6 Sr High Freethrow Champ: Payton Clark Jr High Freethrow Champ: Makenley Sullivan 3 on 3 Champs: Payton Clark Makenley Sullivan Serenity Ehret 5 on 5 Champs: Payton Clark Chloe Hooper Annabelle Peters Makenley Sullivan Katie Rowe Kilee Rowe Tessa Williams Sponsors: Farm Bureau, Sterner Logging and a Loyal Ladycat Fan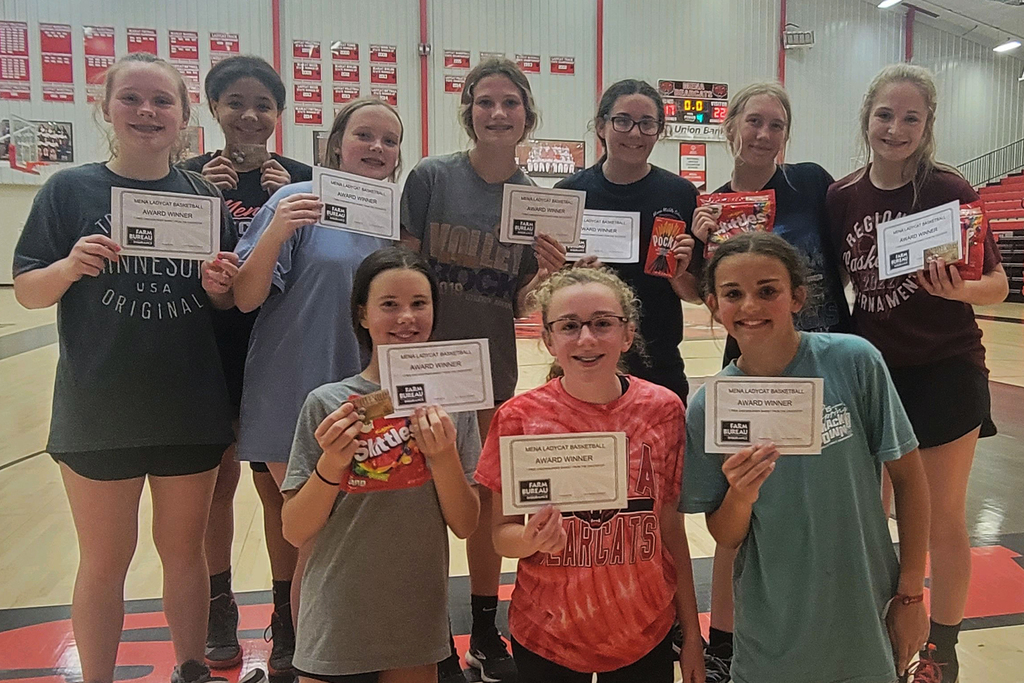 Jessica Kropp's drama class at Mena High School performned the SeussOdyssey for 9th grade English classes on Tuesday. CHELSEY GREEN plays Odysseus & the others participating include: Olivia Butterfield Gael Fernandez Katelyn Hendricks Shauna Hughes Lily Rowland Addison Thomas Elisabeth Tosta Elizabeth Willis Emily Wynn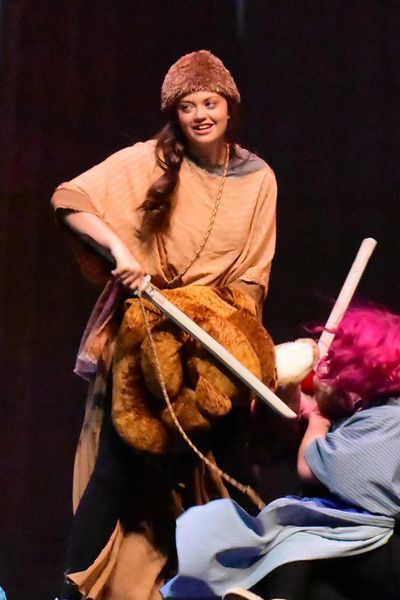 Mena Ladycat softball will play their first game in the 4A South Regional on Thursday at 10:00am against Hamburg in Malvern.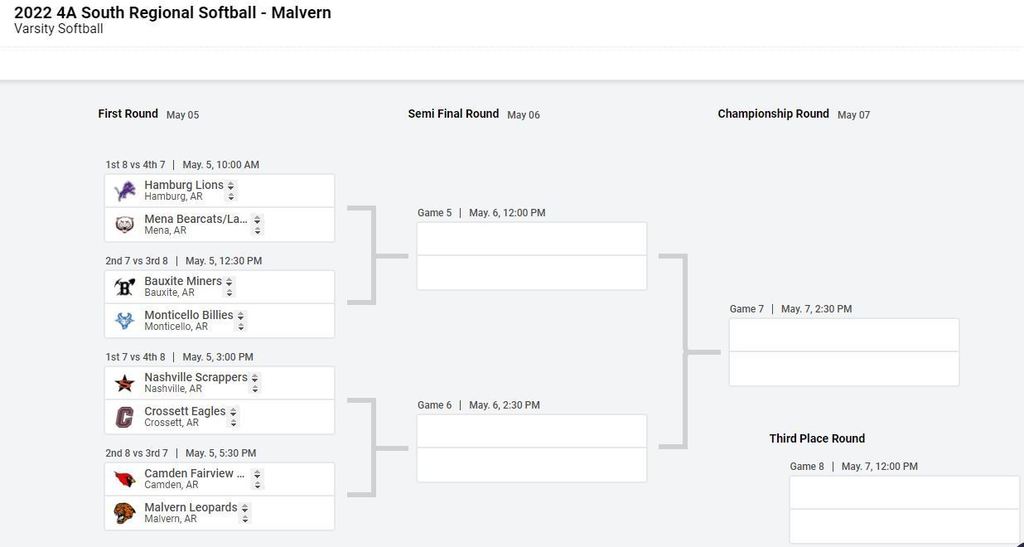 Mrs. Craig's book club finished reading Lemony Snicket's The Reptile Room, or Murder! In celebration for completing the book, Kambree Martin and her dad Paul Martin brought their 3 year old Ball Python to visit the class!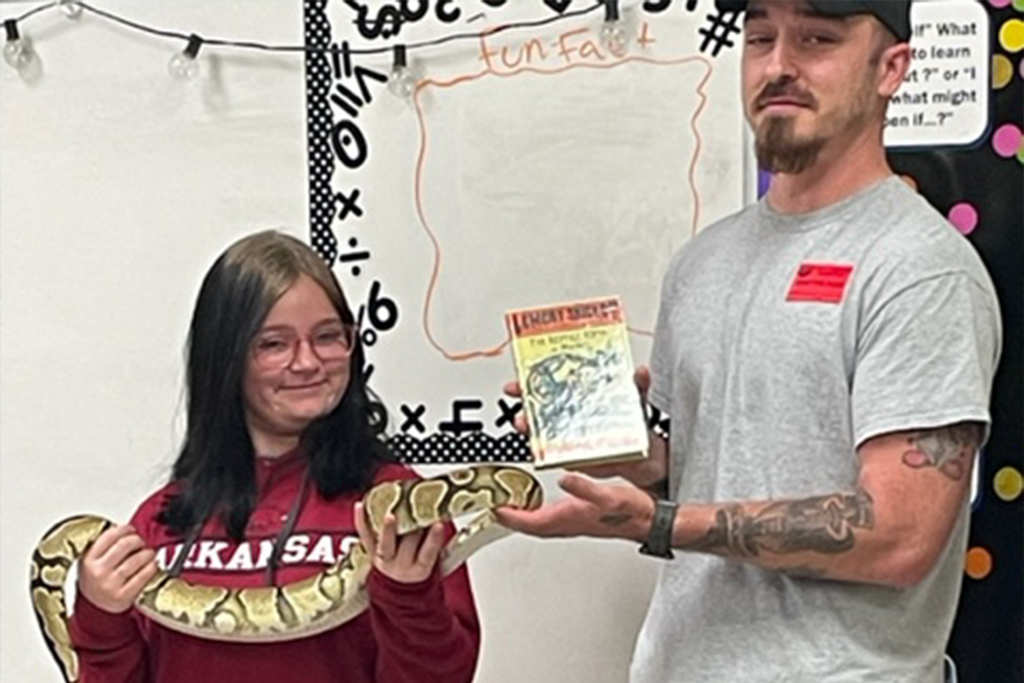 The Mena track team had a 13 man relay team for the Talimena half marathon this weekend! The kids ran in the last mile together and then they ran in with the last runner at the very end. GO BEARCATS!!!
https://www.facebook.com/talimenarunandrelay/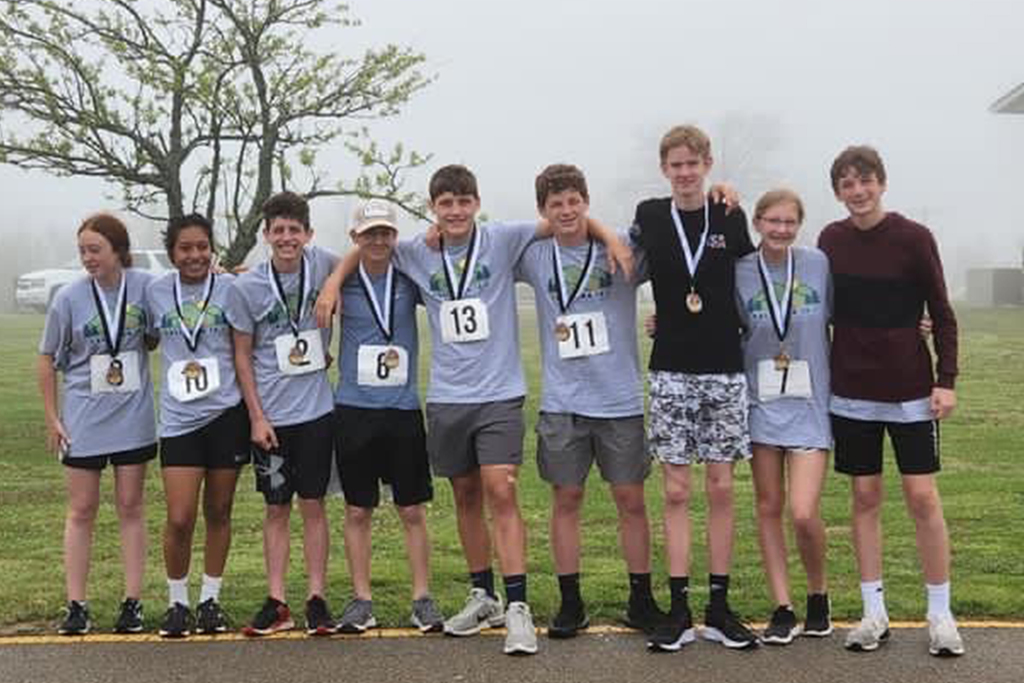 The Mena boys and girls soccer games at Hope have been moved from Tuesday to Thursday to avoid conflict with State Track.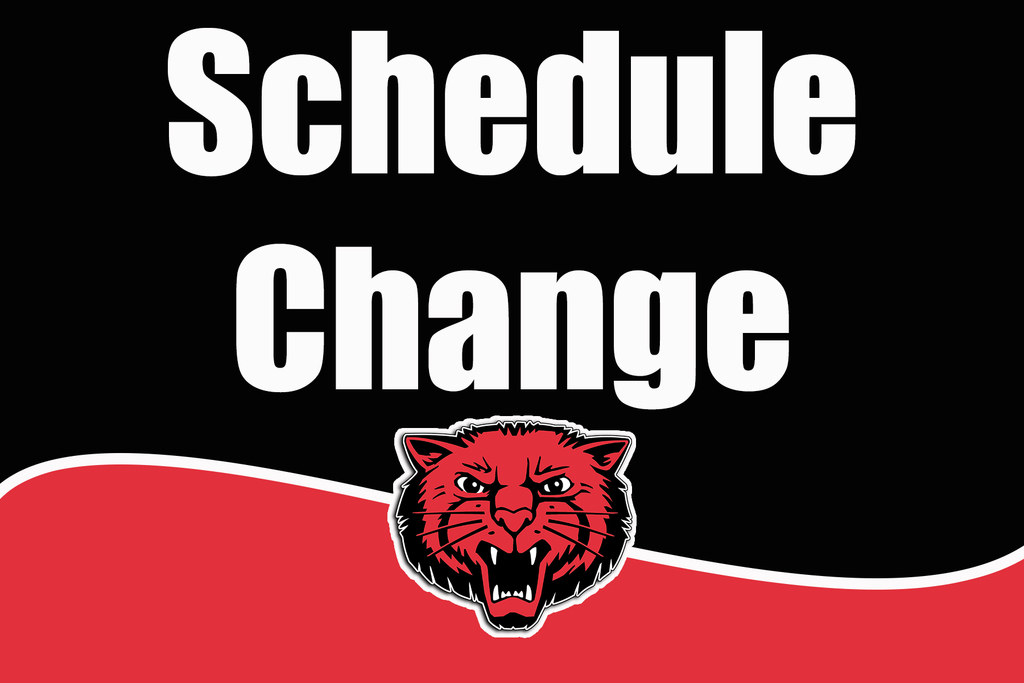 Mena Ladycat seniors Carleigh Smart & Libby Sharp were honored prior to the final home softball game on Friday. Mena Ladycats-9 Arkadelphia-0 Go Ladycats!!!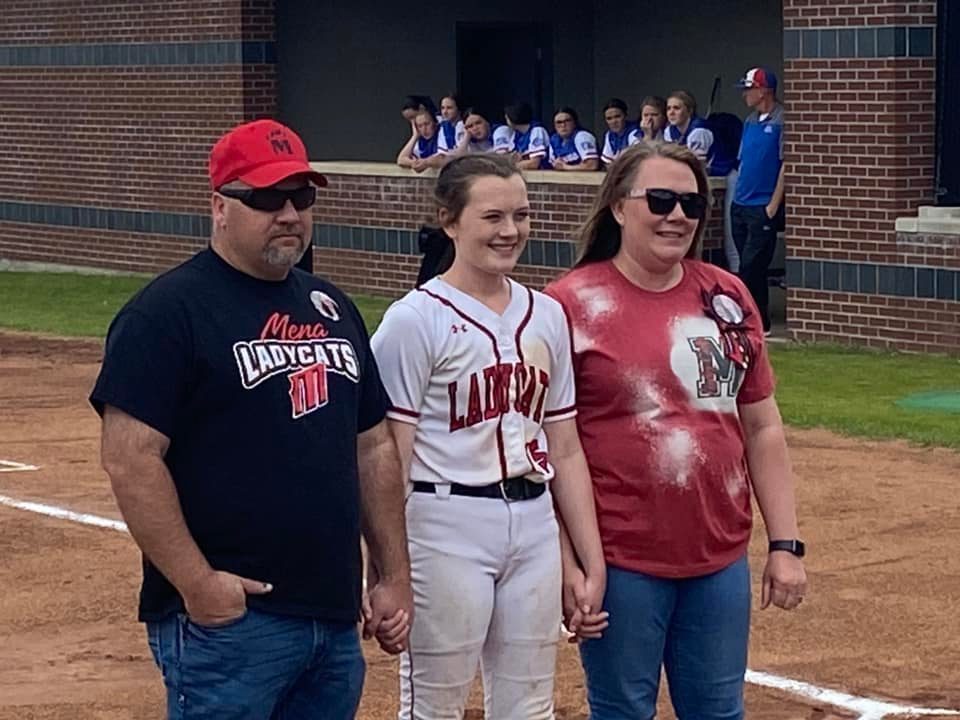 The Mena Bercats played their final game of the season on Friday at UA Rich Mountain's Union Bank Field. Mena Bearcats-2 Arkadelphia-9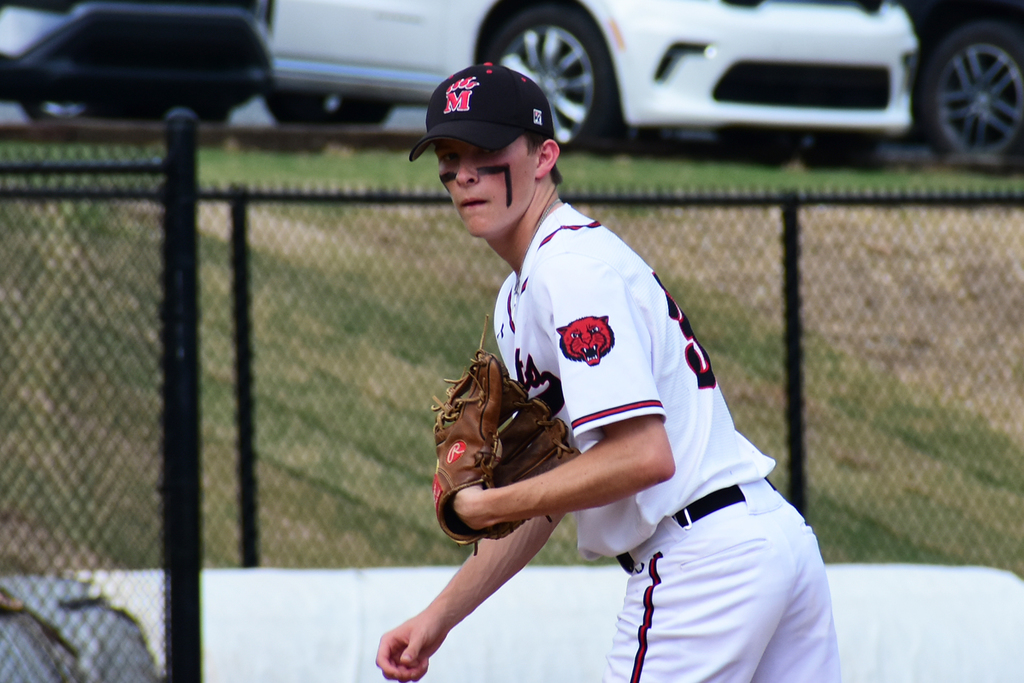 Mena Middle School students competed in the DeQueen Mena Education Service Cooperative STEM Challenge on Friday. They placed in almost every competition.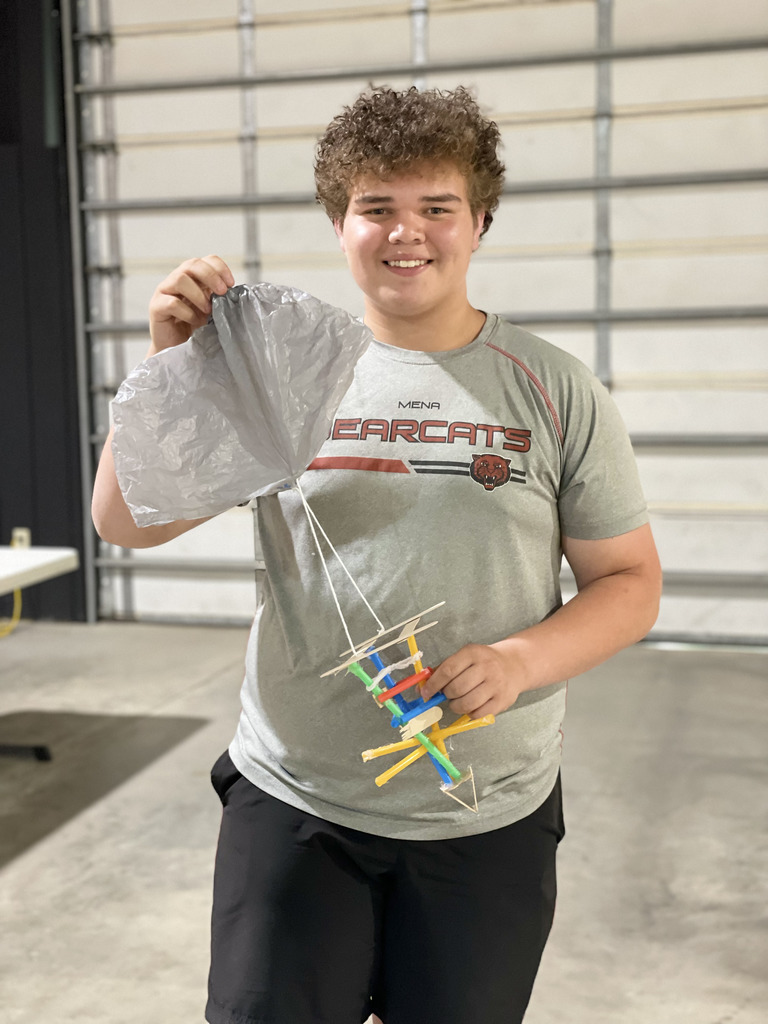 Tune in FM101 on Monday & listen for TITUS THOMAS ! Titus will have this week's report from Louise Durham Elementary during Bearcat News. Only on Mena Public Schools Radio at 5:30am 6:00am 6:30am 7:00am 7:30am 8:00am Noon 12:30pm 3:00pm 3:30pm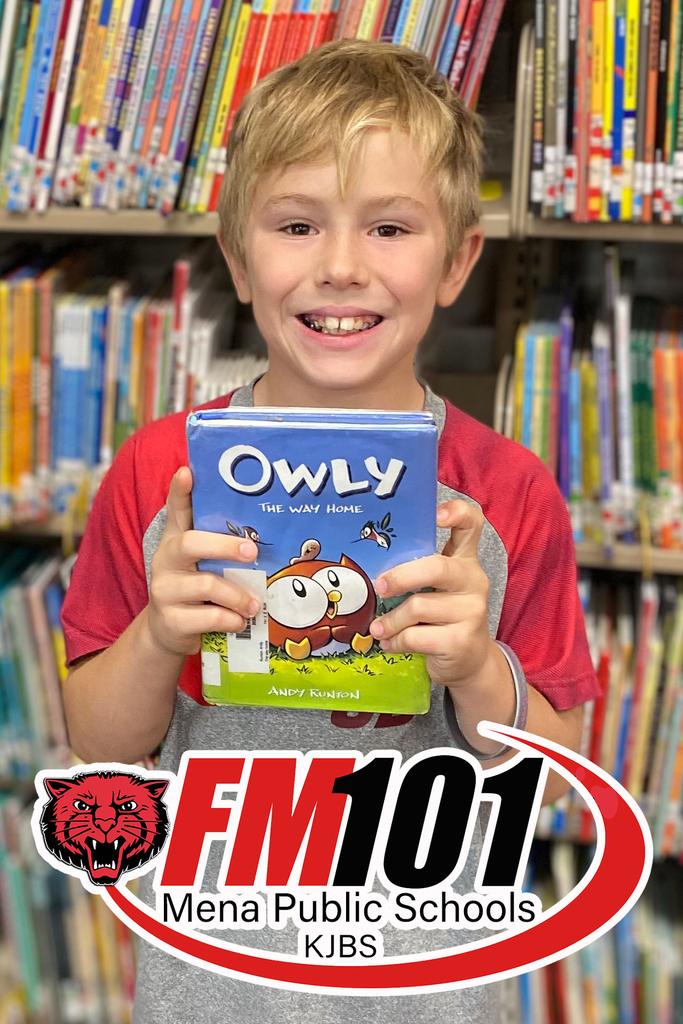 The state track will be held on Tuesday in Harrison & several Ladycats will be competing. Including: Rylie Bentley-4x800 Karley Sharp-4x800, 800, 1600 Jaden Roberts-High Jump, Long Jump Rylie McClara-4x800 Joselyn Hernandez-4x800 GO LADYCATS!!!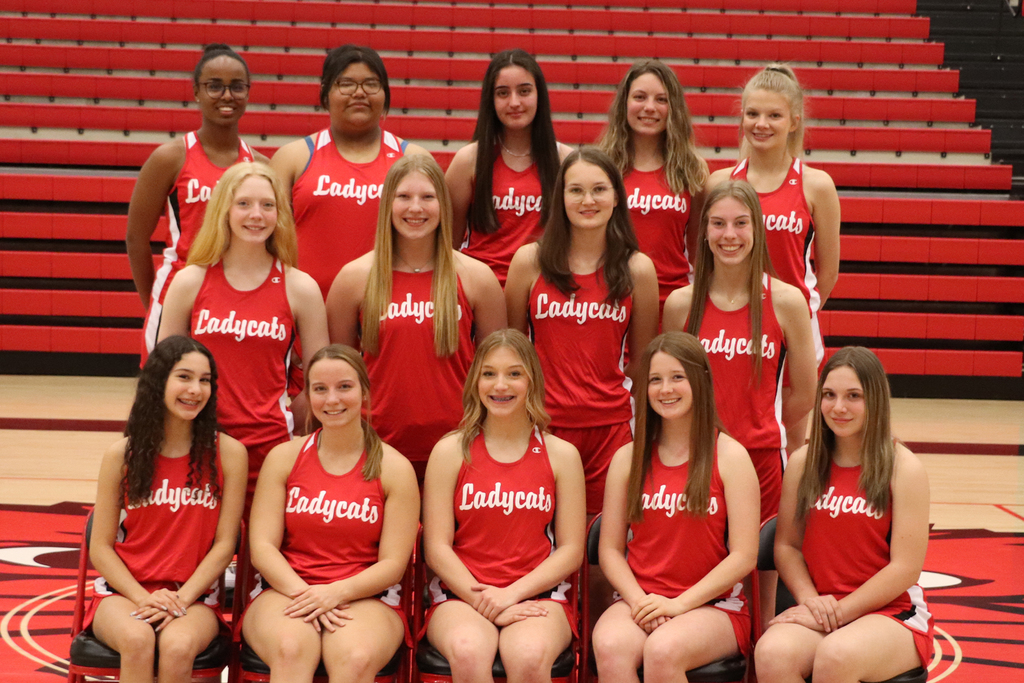 The state track will be held on Tuesday in Harrison & several Bearcats will be competing. Including: Tre McMellon-4x800 Logan Yang-Shot Jake Brotherton-Discus Wilson Hughes-4x800 Paul Putz-4x800 Auston Kerkendoll-4x800 GO BEARCATS!!!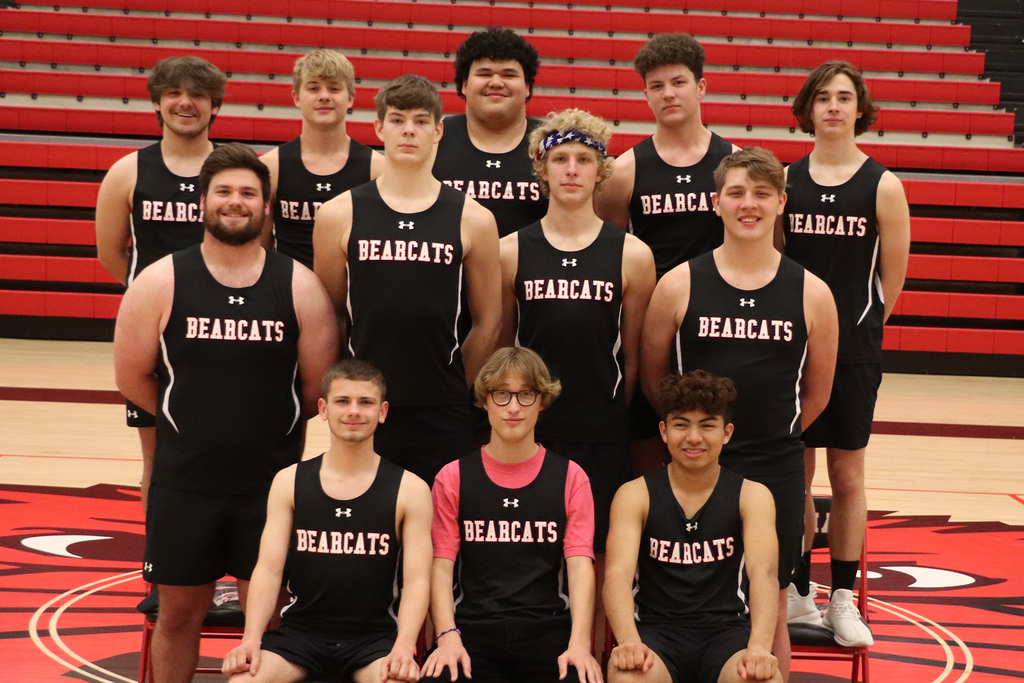 Mr. Andy Philpot and staff unveiled the 2022 Mena High School Yearbook to students & staff on Friday. The 2022 yearbook staff included Lexi Dilbeck Cassidy Ashcraft Leilani Knight Emma Threlkeld Angel Rodriguez Christina Ortiz Brady Montgomery Trevin Plunkett Mia Goforth Kiylee Hughes Brooklyn Hilberbrand-Marzett Makayla Vega Cadence Barnes Emily May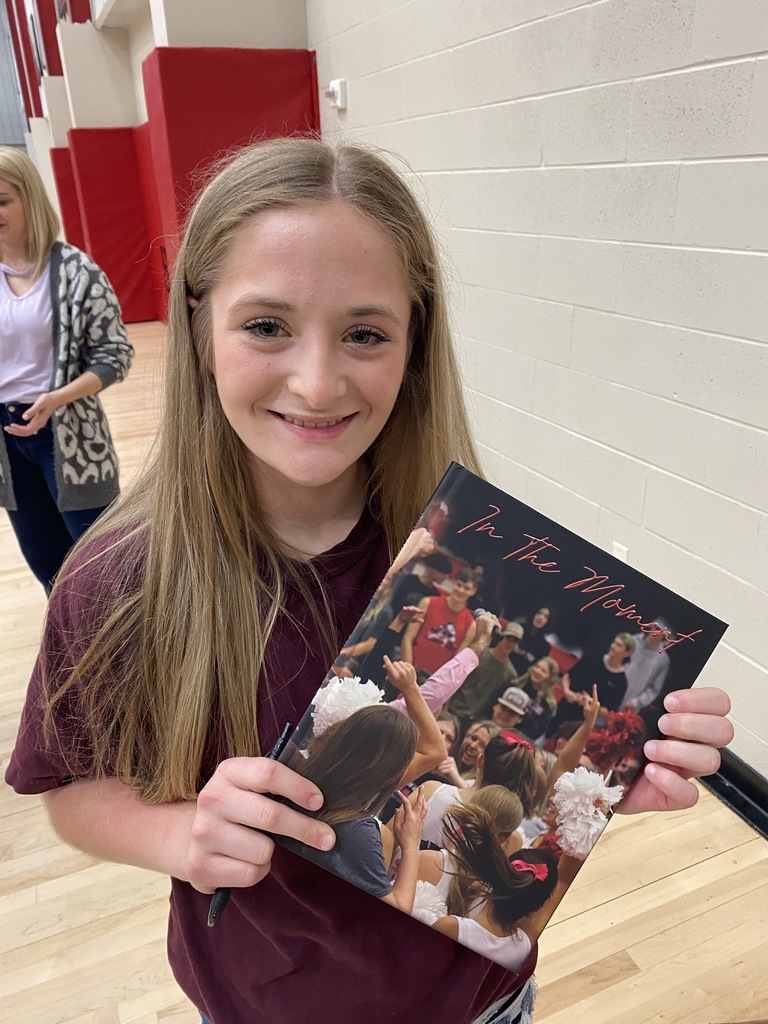 The 2022 Mena Middle School & Mena High School Choirs performed their Spring Concert on Thursday at the Performing Arts Center! Watch the 2022 MHS & MMS Choirs Spring Concert on the Mena Public School's YouTube Channel.
https://www.youtube.com/watch?v=Xq1bbJ6N9PA&t=27s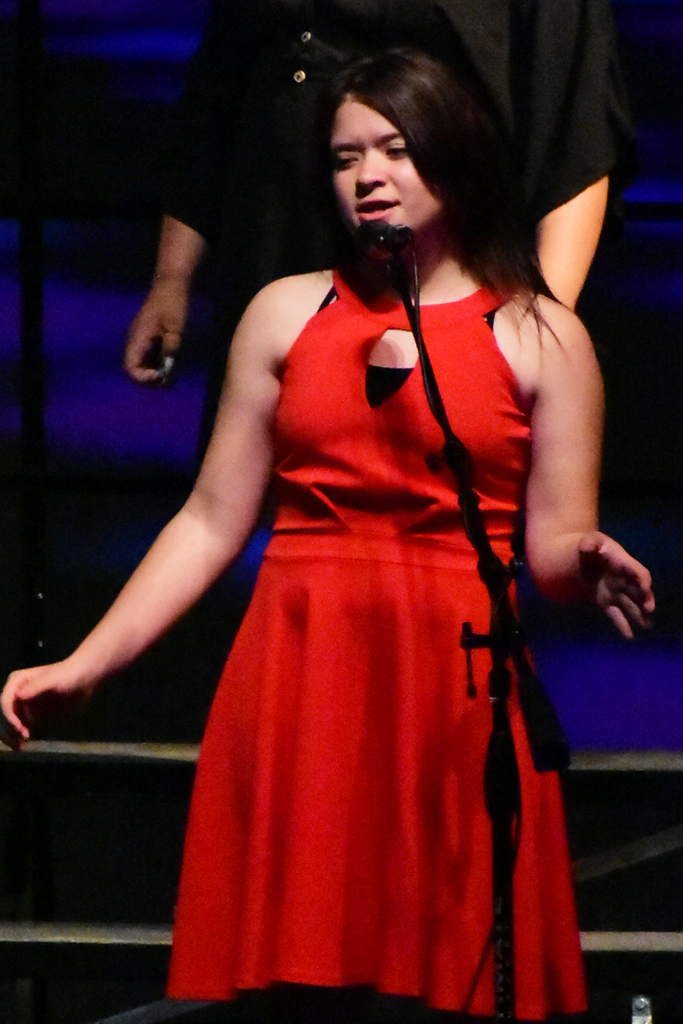 The Mena High School Ladycats & Bearcats competed at the 4A Region 7 Conference Meet at DeQueen on Thursday. The girls were led by KARLEY SHARP with a first place finish in the 800 meters & a second place finish in the 1600. The team scored 72 points & finished 5th. The boys were led by LOGAN YANG with a second place finish in the shot put & JAKE BROTHERTON with a third place finish in the discus. The team scored 52.5 points for 5th place. Check complete results at the link
https://ar.milesplit.com/.../454547-4a-region-7.../results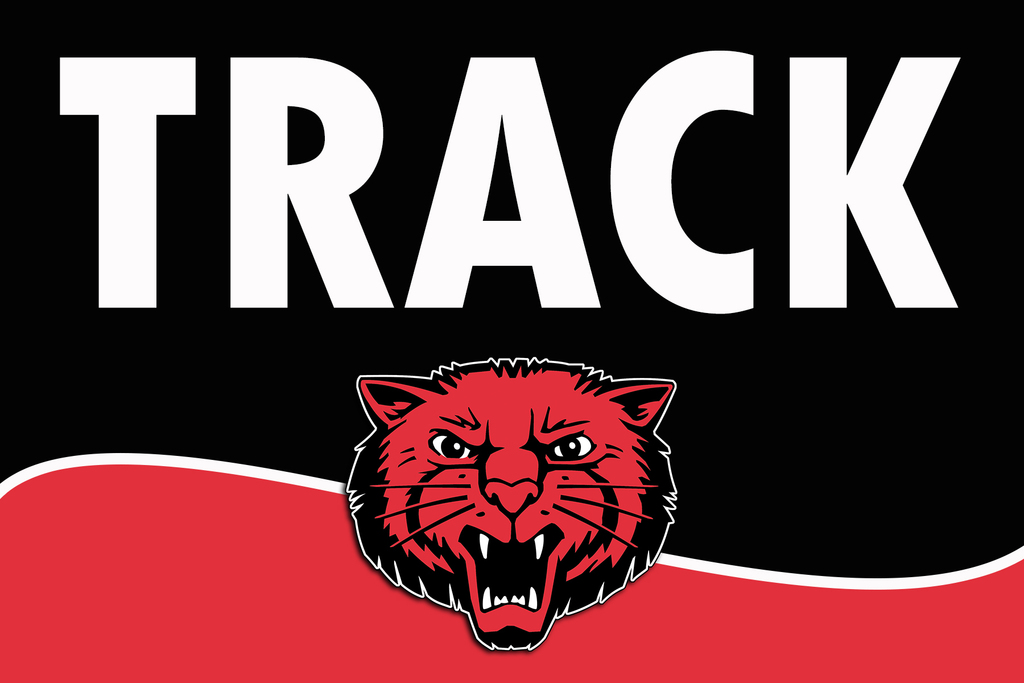 1st-6th grade students for the 2022-2023 school year are welcome to attend ! Registration forms are to be mailed or dropped off at Mena High School c/o Andrea Hughes.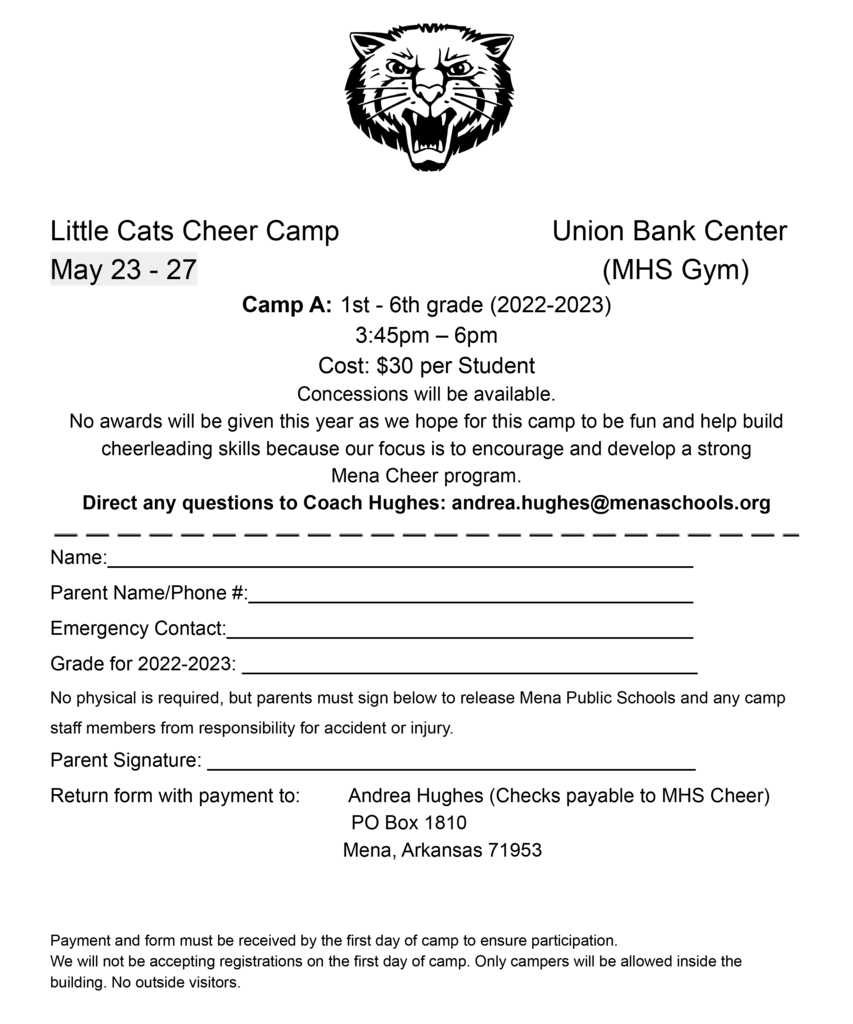 ​Last weeks Ladycat Matt Thomas State Farm player of the week is Emmi Hines. She hit over 500 last week and for the season she has the second highest batting average on the team at 466. She also had an excellent week behind the plate. Emmi is a great all around athlete and a great young lady.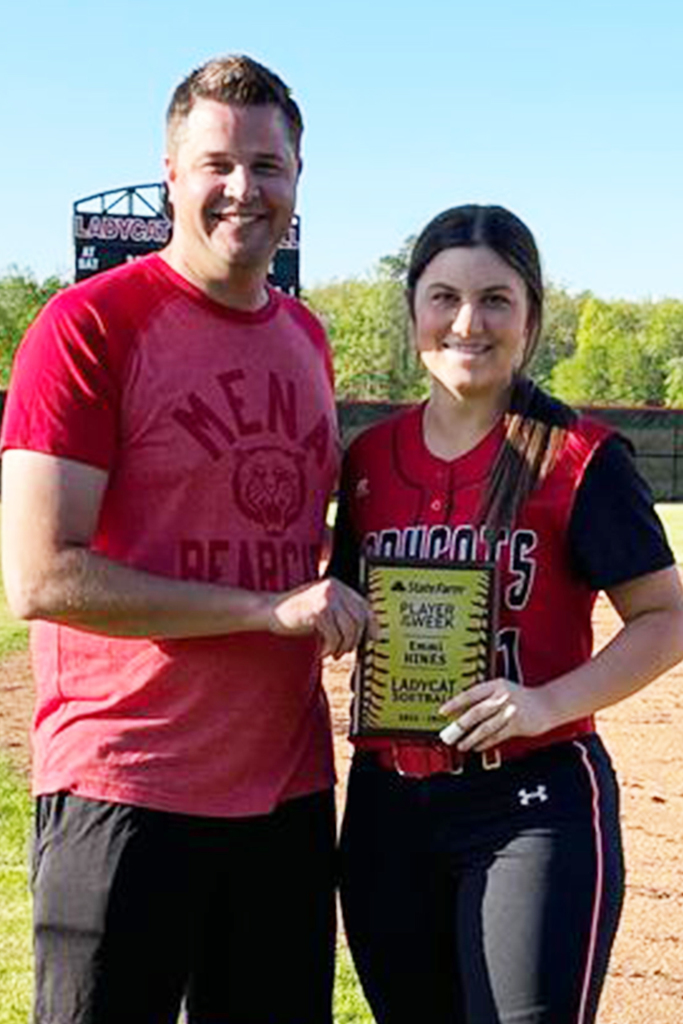 The Freshmen Bearcats took a hard road to the Powderbuff Championship on Wednesday at the Union Bank Center. They defeated the Junior Bearcats in the first round & them beat the Seniors 2-1 in the match. See the winning point and the celebration in the video below.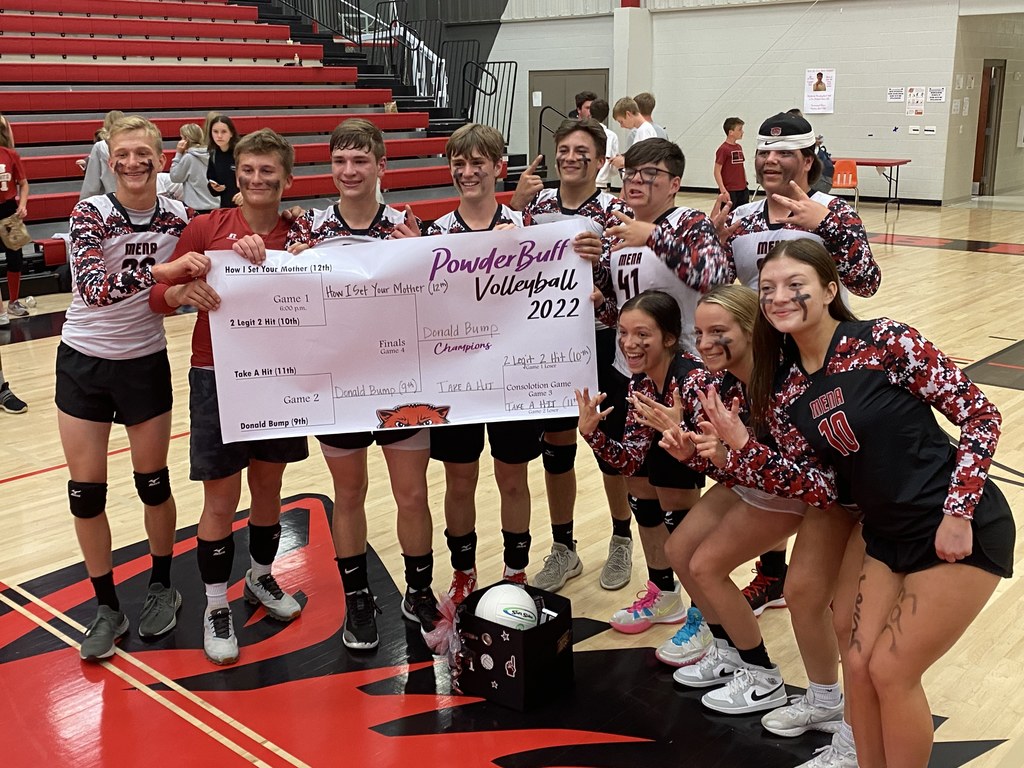 Congratulations to freshman Michael Sullivan for being named our Matt Thomas - State Farm Agent player of the week for our week 7. Mike had a good week at the plate with 3 hits and 6 walks to have an OBP% of .625, also Mike has excelled at the catcher position for us this season and threw out a few attempted base stealers, throwing out a runner to end the game in our DeQueen win.